Camp Casa Jr. is a one-week camp for 4-8 year-olds! Learn music, dance, drama, and theatre crafts in a fun, no-pressure, creative environment, with classes taught by seasoned theatre and education professionals. Your child will learn creative expression using their voice, body, and imagination. On the last day of camp, families will be invited to attend a final presentation of what has been learned.

Small But Mighty
June 6-10
9:00 a.m. - 12: 30 p.m.
$400
Even when you're little, you can do a lot! No matter your size, at Camp Casa Jr. all performers can find their spotlight. Students will grow their self-confidence, imagination and stage presence through the exploration of classic musicals like Matilda, Billy Elliot and Annie. Large or small, here's a chance to use your voice and be heard!
Bad to the Bone
June 13-17
9:00 a.m. - 12: 30 p.m.
$400
There is nothing better than a good villain, and at Camp Casa Jr. they're going to steal the show! Performers can explore some of theatre's best "baddies" from Captain Hook to Elphaba through character work, physicality, and music. Featuring songs from the Broadway musicals, Shrek, Wicked and The Descendants, students can discover sometimes it's good to be bad!
Move it! Move it!
August 8-12
9:00 a.m. - 12: 30 p.m.
$400
Join Camp Casa Jr. and dive into the beat of the animal kingdom! Students will explore music, movement, and rhythm through such popular musicals as Madagascar, Finding Nemo, and The Lion King. Perfect for all imaginative performers ready to shake a tail feather – let's dance!
All Abilities
August 8-12
10:00 a.m. - 11:30 a.m.
$275
Elementary-age students (7-12 years old) with special care needs are invited to explore the creative arts within an environment created especially for their talents. This camp, led by highly qualified special needs instructors, gives families and younger performers a chance to connect Casa Manana's All Abilities program; where they can continue to learn, grow, and explore their talents.
Camp Casa is a place for students ages 8-14 of all backgrounds and experience levels to participate in professional arts training. Campers must be 8-years-old by June 20 to participate in Camp Casa. New performers will have fun exploring musical theatre, while all young actors are able to hone their skills under the instruction of professional teachers. In addition to rehearsing and producing a full-length show, campers will take classes in acting, music, and dance. Best of all, every performer will have the opportunity to perform on Casa's main stage.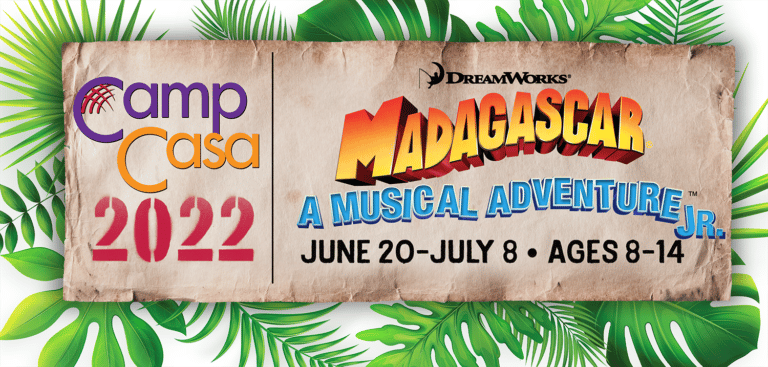 June 20 - July 8
No camp on July 4
Performances July 8-10
9:00 a.m. - 5:00 p.m., Monday - Friday
$1,200
This smash-hit musical has bound out of the zoo and onto the stage! Join all your favorite crack-a-lackin' friends as they escape from their home in New York's Central Park Zoo and find themselves on an unexpected musical journey to the madcap world of King Julien's Madagascar. From scheming penguins to discoing lemurs, there is something to make every young performer MOVE IT! MOVE IT!