Auditions
Casa Mañana holds auditions for Broadway and Children's Theatre shows.
Please check back regularly for new audition notices.
Pictured: Troy Valjean Rucker and Trisha Jeffrey | Buddy: The Buddy Holly Story, 2019 | Photo by Curtis Brown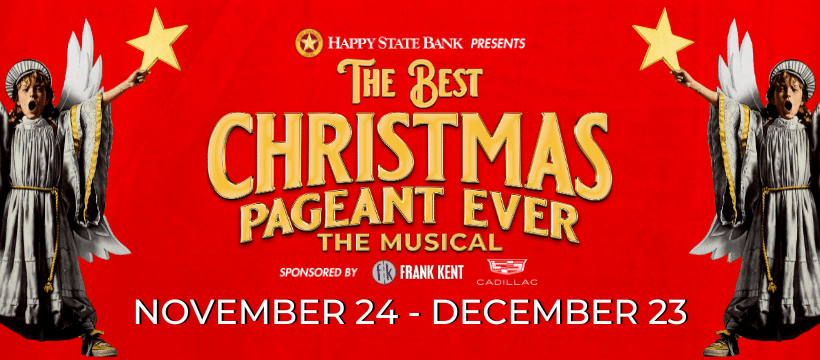 S
aturday
, 
September 16

On-site Auditions
Director: BJ Cleveland
Music Director: James McQuillen
Choreographer: Merrill West
Producer: Wally Jones 
Adult & Student (10 years old+) Roles available.
AEA and Non-professional contracts available. 
Rehearsals begin on or about November 13, 2023 — Performances are November 24-December 23, 2023, at Casa Mañana Theatre. Please note that Casa Mañana holds rehearsals during the daytime hours. Teen Cast may be double cast if needed; school excuse letters can be provided. Performances include morning matinees during the week and weekends.  
All auditioning must bring a headshot, resume, and sheet music in your key for 16-32 bars in the style of the show. An accompanist will be provided but will not transpose.  
No video submissions at this time please.   
Auditions will be held at Casa Mañana Theatre Rehearsal Studios, 3101 West Lancaster Avenue, Fort Worth, TX 76107. Park in main parking lot. Studios are a one-story gray building behind the Dome. Please arrive early and sign in with headshot and resume.  
Callbacks, if warranted, will be the next day, September 17 at 10:00 AM. Callbacks will include dance and/or cold readings. 
Casa Mañana and Actors' Equity encourages performers of all ethnicities, gender identities and/or expressions, and ages, as well as performers with disabilities, to attend every audition. 
Saturday, September 16, 2023 – Vocal Auditions 
By appointment only!  
Vocal appointments begin at 10 AM 
BOOK APPOINTMENTS HERE
All characters are strong actors and singers of all genders, ethnicities, ages and types. 
RALPH: The oldest and coolest. He's the enforcer, 13. 
IMOGENE: Leader of the Herdman's. She's loud, bossy, and crafty, 12.  
LEROY: Ralph's back-up. Very confident in the muscle department, 11.  
CLAUDE: Scrappy and smart, 10.  
GLADYS: Little but fierce. Nothing scares Gladys, 8.  
GRACE: Sweet, good-humored, slightly frazzled mom, 30-45ish  
BOB: Easy-going dad, wry sense of humor 35-40ish  
CHARLIE: Typical kid brother, says what he thinks, 10.  
BETH: Charlie's older and wiser sister. She's honest and kind, 11.  
HELEN ARMSTRONG: Organized steam roller. She's always in charge 40-50ish.  
REVEREND HOPKINS: Occasionally, befuddled, always well-meaning 40-50ish.  
LUANNE: Sassy, tells it like it is, 35-40ish.  
BETTY: sweet southerner, calls everyone "honey" 30-40ish 
CONNIE: direct, no-nonsense type, 30-40ish  
ALICE WENDLEKEN: Know-it-all. She think she's perfect, 11.  
ELMER HOPKINS: Preacher's kid, which means he needs to behave and be nice, 10.  
TEDDY SHOEMAKER: Wimpy kid with glasses, asks too many questions, 9.  
IVY REED: Beth's ernest friend who is sometimes a goody-goody, 11.